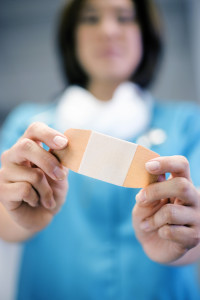 Let's face facts. Even if you have a strategic marketing plan in place, things are still going to go wrong. How you deal with those problems is what separates successful companies from those that are just putting Band-Aids on their business and marketing problems.
Does this Scene Seem Familiar?
It's mid-month and your CEO is not happy about where sales/leads are for the month. He wants answers and action about how you are going to hit the monthly goals.
What do you do?
If your sales, leads or app downloads are off target, then running a promotion might be helpful in the short term. But will that solve the larger business problem of why your business is down? You'll want to ask questions like these . . .
Is asking for additional marketing budget going to help?
Did you check all parts of your sales funnel to figure out where or why things are not going according to plan?
Is there a problem in your industry?
Did the cost to acquire a customer go up and your funnel is no longer as efficient as it once was?
Did you look at each of your media channels separately?
Are your management and marketing teams focused on the long-term health of the business, or just this month's "number"?
Are competitors getting more aggressive?
Did something happen to your company's reputation or online reviews?
Is there a technical problem with your site/app/forms/cart, etc.?
The list goes on.
In today's marketing environment most of the answers to these questions have to work together and are not mutually exclusive. Note: None of the questions above should become excuses not to act; they are potential indicators of actions you can or should take.
The Importance of Optimizing Your Sales Funnel
Many companies spend the majority their marketing budget to bring people to the top of the funnel, without asking whether the entire funnel is optimized. So take the time now (and continue to evaluate throughout the month) to make sure everything is functioning at peak performance. Then formulate a plan that will give you both short and long-term results. Each of the above questions can be addressed by a marketing effort. But your job is to determine which item(s) to address, and in what priority.
Moving Beyond Band-Aids
In the last few weeks I have seen a number of marketing efforts that would be considered Band-Aid efforts (promotions, last-ditch efforts, increased spending). While there was a good reason for each of those Band-Aids, the companies in question should have also addressed larger marketing problems that would pay dividends into the future and position them for long-term success. In one case, the company could have focused on optimizing their inbound marketing efforts. In another, the company had online reputation problems to address and a site that was not optimized for mobile devices.
To summarize . . .
Take the time to evaluate WHY business is down and address the larger issues, or you will find yourself in that same painful moment where you are ripping off the old Band-Aid to put on a new one.  The answer to your business's marketing problem is not jumping on the hottest topic or focusing on one aspect of your business. Your problems can be solved by evaluating and understanding how all of the items I listed above work together to drive your success.
As always, let me know if you would like to discuss this or any other marketing topic in more detail.
Related Posts
Shhh! Here's How to Tap the Power of Secrets in Marketing
Do You Offer a Guarantee?
Hope is Not a Marketing Strategy