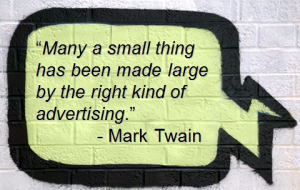 Are you thinking and acting as big as you can?
Years ago when I worked for one of Donald Trump's businesses, I would hear "Think Big" all the time around the office.  It was so prevalent it was meaningless.  However, I think that the concept can suggest a number of effective marketing angles that many "small" businesses can use to act big.
It's all about building credibility. If you are a small business trying to do business with larger, more established clients, here are a few easy-to-implement tactics that will make you appear bigger than you are:
Build a Corporate Team page to showcase the members of your organization – Many small companies don't include one on their websites because they only have one or two people to add to the page. If they don't add one, they are making a mistake.  You might not have a full team of employees on staff, but you probably have advisors, consultants and others who help you run your business.  There is nothing wrong with adding them to your Corporate Team page as long as it is clear what they do and you don't over-position their roles.
Include a Careers or Jobs page – Are you hiring? People overlook the value of a Careers page.  When companies are hiring, that shows that they are growing.  People want to work for, and do business with, growing companies.
Ask and answer questions – FAQ pages answer common and not-so-common questions. They help people understand your business.  If you are missing this page from your site, add it ASAP.  You won't be disappointed.  There are actually a few additional reasons for putting up a basic FAQ page on your website. Check back on this blog for more insights.
Tell people how to contact you – It sounds like simple advice, but did you forget to include a Contact Us page?  It serves a dual purpose. First, it allows people to contact you; Second, it gives you a way to showcase all the ways people can stay in touch with you and sends a signal that you want to be contacted.  I know that I get frustrated when I can't get in touch with a company and that the company then loses my business. So make sure you have a phone number, email address, social media links and your hours of operation. If you have a chat function, add that too.
Include an About Us page – Once again, this sounds like basic advice.  But is often overlooked.  Even when companies do include About Us pages, they are often done poorly.  This is your place to shine.  Tell your story in your own voice.  Share your vision and the "Why" behind your business. Why are you different from everyone else in your industry?
Include testimonials and case studies – If you are brand new, you might not have this content yet. But if you have been in business for a while, you should have a few case studies to share, a few sentences from your clients on how you helped them.  Ideally you will personalize this page as much as possible too. But start now and get the content up on your site.
Prove that you are "official" – Are there designations or certifications in your industry you can add to your site? Awards you won? How about BBB seals or other designations from your industry trade groups that show you are legit and trustworthy?  It might sound silly, but those little icons on the page help people convert into customers.
Hope this got you charged up to update your website and to start thinking big.  I have a few more tips to appear bigger than you are. But let me know when you have done the tasks I have laid out for you today. We can then explore more advanced marketing tactics that will help your business grow.
If you have other tips share them in the comments below.