This is part 2 of a direct marketing tip inspired by Nordstrom.  As mentioned last time Nordstrom typically has great marketing (I have no idea how successful it is but let's focus on what we know.)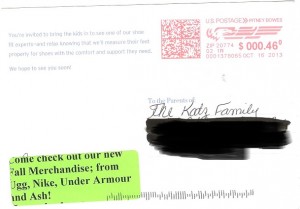 Postcards in direct marketing serve a great purpose and when used strategically they can help drive sales (or any other goal in your marketing program).  Over the course of my career I have mailed millions of postcards. Each time we worked on a mailing a few items popped up.  If you're using postcards in your marketing feel free to use this list as a cheat sheet.  Learn from my experience and save yourselves the trouble of getting it wrong the first time.
Make sure the postcard is a postcard.  There are specifications you must meet to qualify for postcard rates.  A good direct mail designer will know the specs but they are easy to check.
Does your mailing qualify for a discount presort rate?  Also easy to check based on how your database is maintained and how your mailing is being produced for the postal service.
The address panel doesn't have to be text only.  This is where a good designer will stand out.  Someone who knows what can and can't be in the mailing panel will make the most use of the space provided.  There is more space than you might realize. Use it for your branding, messaging or calling out an offer or deadline.
Give me a reason to respond – in the Nordstrom case maybe I could make an appointment or bring the card in for something special. If your business uses discounting that could be your offer. Without a reason to respond you should recheck the marketing strategy for using a postcard.  There are a few exceptions but not many.
Provide a Call to Action – is there a site to visit, a time to come in, a phone number to call a physical location I should visit, something to text, a social media site to join.  Without a call to action you miss an opportunity to get me to do something and you waste my attention.
Personalization – if you are going to do it go all the way.  You must know more about me than my name and address if I am in your database.  Go the extra mile and try to make me feel special and that you know what is important to me.
I love the many ways you can use postcards to effectively market a business and can probably go on and on about them.  If you have ideas or questions about using postcards in your marketing just leave me a comment.